Upcoming Events:

February 20 through February 28, Georgian Delegation will be visiting Atlanta through Open World programs.
ATSCC Meetings:

Atlanta Sister Cities Commission meets every second Wednesday of the month, please contact Nina Tickaradze for further details at ninat@hallboothsmith.com.


November 15th,2011
ATSCC and Georgia to Georgia foundation attended Kutaisi-Columbia Sister City Committee's annual fundraising dinner Georgian Wine Dinner, in Columbia, MO to support Diabetic Children's Camp in Georgia. For more information please visit: www.acalltoserve.org



October 16, 2011
Forth Annual Taste of Georgia

The 4th Annual Taste of Georgia was a tremendous success. The celebration, held at Atlanta City Hall on October 16th, marked over 25 years of friendship and cooperation between the State of Georgia and the Republic of Georgia. The Atlanta-Tbilisi Sister City Committee (ATSCC) and the Georgia to Georgia Foundation (Ga2Ge) welcomed over 150 guests for a night of Georgian culture, music, and friendship. Attendees enjoyed artwork from talented Georgian artists, Ilia Chitadze and Zaza Sakheishvili, and traditional Georgian dishes homemade by local Georgian families. The event also honored Ambassador of Georgia to the United States Temur Iakobashvili and Major General Terry Nesbitt for their longstanding commitment to furthering the relationships between the State of Georgia and the Country of Georgia.
ATSCC and Ga2Ge would like to thank all the hard working volunteers for their efforts in hosting this wonderful event and we look forward to making next year's Taste of Georgia just as successful.




September 23-October 1
Open World Leadership Delegation
The Georgia to Georgia Foundation hosted an Open World Leadership Delegation from September 23rd to October 1st. A group of five attorneys from the Country of Georgia visited Atlanta to learn more about the rule of law in an attempt to further ongoing legal reforms in the Country of Georgia. The delegates visited with justices of the Federal and state judiciary, sat in on court proceedings, met with law professors, government leaders, and attorneys, and toured the United States Penitentiary in Atlanta. The trip also facilitated cultural exchange through receptions with host families and local volunteers and attending an Atlanta Braves baseball game. By all measures, the trip was a tremendous success and provided delegates with the insight and information to help them create a more just and fair legal system. The Georgia to Georgia Foundation is looking forward to hosting more delegations and continuing to foster personal, economic, and cultural relationships between the State of Georgia and the Country of Georgia.

April 1-9, 2011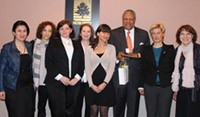 In April ATSCC proudly joined with Georgia to Georgia to host a delegation of journalists from Georgia. The theme of the delegates'
visit was Accountable Governance: Transparent and Independent Media.
The Georgian delegates included: Khatuna Barbakadze, General Director of Kvemo Kartli Tele-radio Company, Ketevan Berdzenishvili, Program Director for Radio Dzveli Kalaki, Khatuna Gogashvili, reporter for Hereti Broadcasting Company, Maia Ivelashvili, General Director of TV-Radio company Imperia, Tea Zibzibadze, Editor of Akhali Gazeti, and Irina Arabidze, group facilitator and Public Information Officer for the European Union Monitoring Mission in Georgia.
The delegates attended meetings focused on independent journalism and media practices in the United States. The meetings included a discussion with Atlanta Commissioner Robb Pitts, touring radio stations WABE and Georgia Public Broadcasting, discussing the method of political communication with constituents with the Department of Communications and the Mayor's Office of Atlanta, meeting journalism students at the University of Georgia, discussing sustainable journalism practices at the Center for Sustainable Journalism at Kennesaw State University, exploring judicial practices through speaking to Georgia Supreme Court Justice Melton, and interviewing reporters about U.S. journalism practices at the Atlanta Journal Constitution and Global Atlanta.
Although the week was full of interesting journalism meetings, the delegates found time to explore a few cultural activities in Atlanta.
The delegates were able to meet Georgian native Zaza Pachulia and cheer him on at a Hawks game, explore music and the gardens at Atlanta Botanical Gardens, and enjoy great food and conversation at an ATSCC volunteer dinner.

March 16, 2011
Georgia to Georgia foundation donation to the library of International Relations Main Division


In the framework of cooperation between the Foundation "Georgia to Georgia" (established in Atlanta, USA) and Ministry of Internal Affairs a sound number of books and textbooks were gifted to the library of International Relations Main Division on March 16, 2011. Representative of the Foundation, Mr. Matt Allen, attended the presentation and officially handed over the books to Mr. Shalva Kvinikhidze - Head of the International Relations Main Division and expressed desire to deepen future cooperation. www.police.ge

February 15, 2011
Hall Booth Smith & Slover (HBSS), a full-service law firm headquartered in Atlanta, GA, has announced the opening of its office in Tbilisi, Georgia. Partnering with the Eristavi Law Group, HBSS will be the first U.S. law firm in Georgia.

According to the law firmís officials, HBSSís primary focus of practice will be in International Funding and Financing, International Arbitration and Meditation, Health Care Law, and Corporate Matters. Matthew C. Allen of Atlanta, GA will be the Managing Attorney of the Tbilisi office. Allen has extensive experience working with Georgian companies on international financing and corporate matters. HBSS has strong ties to Georgia through working with the Ministry of Health, Ministry of Justice, Ministry of Internal Affairs and the Georgian Supreme and Appellate Courts. HBSS currently represents several Georgian and American companies conducting business within Georgia.

Chairman of the Atalnta Tbilisi Sister City Committee John E. Hall, Jr. who is a partner at HBSS traveled to Georgia for the opening festivities.

HBSS is celebrating its 21st year providing the high quality legal services to its clients and maintaining eight regional offices throughout the Southeast. HBSS has been ranked as one of Atlantaís "Best Places to Work for 2010" by the Atlanta Business Chronicle.




February 1-2, 2011
Georgian Health Care 2020 : MEDEA 2011
The first Georgia-U.S. Conference on Georgian heath care, organized by the First Lady of Georgia, the Embassy of Georgia to the United States, and the Ministry of Labour, Health, and Social Affairs, and Georgia to Georgia Foundation took place on February 1-2 2010 in Washington, D.C. Titled "Georgian Heath Care 2020: MEDEA 2011", the very successful conference included representatives from U.S. and international organizations, Georgian government officials, non-governmental organizations, and medical and public health professionals. The conference was designed to seek both ideas and investment from the Georgian and U.S. private, public, and nonprofit sectors. U.S. Secretary of Health and Human Services, Kathleen Sebelius, was the keynote speaker. The conference generated awareness on the challenges faced by the health care system in Georgia and identified key strategic priorities to strengthen the existing capacities of the system. The list of participating partners in the MEDEA 2011 conference included, but are not limited to: members of the National Health Authorities and coordination bodies in Georgia, U.S. Government agencies and implementing partners (USAID, CDC), and members from Academic Institutions from Georgia and the U.S., including representatives from Emory University, Harvard University, Georgetown University, and Tbilisi State Medical University.